District Grand Secretary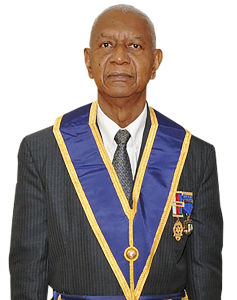 W. Bro. John Lewis
District Grand Secretary
 BIOGRAPHICAL DETAILS:
The District Grand Secretary, W. Bro. John Lewis, is a Transportation Specialist with a Master of Science degree in Air Transport Management. He has had an illustrious career in the public corporation and regional inter-Governmental sectors in Guyana retiring from a senior position at the CARICOM (Caribbean Community) Secretariat in Guyana where he specialized in the development and coordination of regional (Caribbean) air and maritime transport policy.
W.Bro. Lewis began his working career in 1968 in domestic and international air cargo and passenger services at Guyana Airways Corporation rising to the position of General Manager in that Corporation before moving on to the CARICOM Secretariat in 1988.
His Masonic career commenced in 1996. He is a member of several Orders and Founder Member of several lodges.
He is a Life Member and a member of the Board of the Georgetown Club in Guyana where he is presently the Honorary Secretary. He is also a member of the Board of the St. Joseph Hospital.
He lives in Georgetown with his family.