Deputy District Grand Master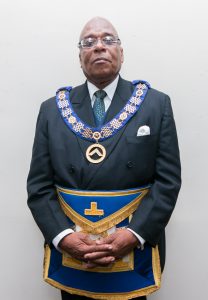 W. Bro. Dunstan Barrow
Deputy District Grand Master
 BIOGRAPHICAL DETAILS:
WBro Dunstan Barrow served with distinction as a Leading Executive both in the Public and Private Sector in Guyana. For several years he headed Guyana's Bauxite Mining Operations in Linden Guyana just over 60 miles south of Guyana's Capital Georgetown. He has and is serving on several boards of private sector entities and non-governmental organizations.  He Holds the Arrow of Achievement, A.A. a national honour in the Orders of Guyana and once served a Member of the Parliament of Guyana (M.P).
WBro Barrow, a Past Assistant Grand Director of Ceremonies and Past Assistant District Grand Master and in the Royal Arch he obtained the rank of Past Grand Standard Bearer was appointed Deputy District Grand Master in 2018
He is an active Rotarian.
He holds a BSc. (Honors) Bachelor of Science Business Administration – Specializing in Finance, Insurance and Real Estate from California State Polytechnic University Pomona, California, U.S.A (1972). Two years later he completed his MBA. (Honors) Masters in Business Administration Specializing in Business Administration, Finance and Entrepreneurship at the University of Southern California (USC) Los Angles, California, U.S.A.
He is an avid Art Collector and loves Gardening, both interests he shares with his wife and family at their Georgetown Guyana home.