District Grand Master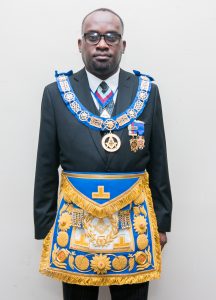 Rt. Wor. Roysdale A. Forde
District Grand Master
 BIOGRAPHICAL DETAILS:

The Right Worshipful District Grand Master Roysdale Alton Forde LL.B is a prominent, accomplished attorney in Guyana who also practices in the Caribbean. He was called to the Bar following completion of his studies at the University of Guyana and the Hugh Wooding Law School in Trinidad and Tobago.
He is Chairman of the Guyana Gaming Authority that has oversight for Casino and Gaming Regulations in Guyana.
At 43, Rt WBro Forde became one of the youngest Masons in recent time to occupy the position of District Grand Master in 2018. He succeeded Rt WBro Doodnauth Persaud.
Rt. WBro Roysdale Forde and his family reside in South Ruimveldt Gardens in Georgetown Guyana.